Information Technology is one of the widest and prominent sectors of the world which is employing around 4.5 million people. This sector has the strength of turning your world upside down. You can transform your thoughts into reality. The latest World Investment Report 2021 by the United Nations Conference on Trade and Development stated that India has become the fifth-largest receiver of foreign direct investment (FDI) inflows in 2020, receiving $64 billion and most of the investment is moving towards the technology sector of India. The top IT companies in India are contributing to the expansion of this sector.
Importance of IT sector in India
IT sector contributes in the growth of the country.
A major share in the GDP of India is provided by IT sector
Innumerable people are working in this sector. Hence, it is raising employment in the country.
This industry is bringing invaluable foreign exchange in India.
IT sector is a major reason of growth of infrastructure in many cities like Bangalore, Pune, Gurgaon, Hyderabad etc.
It is not limited to software development. The industry has been contributing in almost every sector of the country. Whether it is healthcare sector, hospitality sector, financial sector etc., IT is a major part of their daily lives.
Here is the list of top tech companies in India. Know more about these companies, revenues, their history, and many more.
IT Companies in India
1. Tata Consultancy Services
TCS or Tata Consultancy services are the largest IT Company in India in terms of its revenue. This company was founded by Tata Sons in the year 1968, and since, this company is earning fame and expanding its business. The headquarters of TCS is situated in Mumbai and the company has been providing employment to more than 50,000 people in India. The company has nearly 240 branches across the globe and out of that, 75 branches are here in India. The other branches are situated in the UK, France, USA, Canada, and Germany. It is the best IT company to work for in India.
Tata Company has countess number of businesses. There is hardly any industry where Tata group has not invested. TCS is one of the Tata companies. Other than TCS, Tata owns- Tata Steel, Tata Motors, Tata Hotels, Tata Power, Tata chemicals, etc. Tata has been successfully running its business in more than 100 countries and climbing the stairs of success with utmost perfection. This company provides more to their employees than just salary. They are providing health insurance, free transportation, training for the job and child care facilities, etc.
2. Infosys
Established in 1981, Infosys is one the most successful IT companies in the world. The chairman of this IT Company is Nandan Nilekani and the COO is U.B. Pravin Rao. This company has multiple branches across the globe. There are nearly 190-200 branches of Infosys. Infosys is the first IT Company from India to be listed on NASDAQ (stock exchange in America). Other than this information, the headquarters of this company is in Bangalore and the company is providing jobs to nearly 2,60,000 people.
The company is offering cloud-based services, cyber security, application development, consulting services, application modernization, data analytics, internet of things, testing, salesforce, blockchain, digital marketing, incubating emerging and digital marketing. Infosys is one of the reasons for making India, a technology hub of the world.
3. Wipro Limited
Our up next IT Company is Western Indian Products Limited, also known as Wipro Limited. The founder of the company is Mohamad Premji and the chairman is Azim Premji. The 72 years old company is involved in more than just the IT sector. Wipro is providing personal wash products, skincare products, male grooming products, toiletries, wellness products, household products, electrical wire devices, domestic and commercial lighting, and modular office furniture as well.
There are more than 2 lakh employees in Wipro Limited who are working tirelessly for the growth of the company. The headquarters of the company is situated in Bangalore and the company has 20 offices in the world. The IT Services provided by the company are data analytics & Artificial Intelligence, infrastructure services, digital operations & platforms, cyber security, blockchain, application, and consulting.
4. Edible WebTech
Here we are with the next IT Company in India. This company is not as old as other companies but it is growing rapidly and contributing to the growth of our country. The founder of Edible WebTech is Tarundeep Singh and the CEO is Amandeep Singh. The company was established in 2016 and its office is situated in Punjab. This company has proved to be a tough competition for all the IT start-ups in the region. There are more than 50 employees working in the company and many more to join in upcoming years.
Services provided by Edible WebTech are Web design & web app development, Digital Marketing, Mobile apps development, E-commerce, content creation, brand building, and Promotions. This company is building a healthy work environment for all the employees by providing Timely and good salaries, free transport facilities, paid leaves, maternity – paternity leaves, and cafeteria. A healthy and friendly working environment is the key to extract the best out of your employees.
5. HCL Technologies
HCL stands for Hindustan Computers Limited, again one of the best IT Companies we have in India. The founder Shiv Nadir established this company in 1976 with the mission to work hard and make it a successful start-up. Mr. Shiv Nadar is also working as the MD and CSO of the company. The chairman of HCL is Roshni Nadar Malhotra, who is running the company with her ultimate skills and knowledge. There are around 1.7 lakh employees in the company working from 180 branches in the world.
The headquarters are located in Noida, one of the top technology hubs of India. Services offered by this company are hybrid cloud services, next-gen network services, cyber security & GRC services, VLSI design services, application support, supply chain administrations, finance-related services, digital counselling, and many more. You can look at the career opportunities offered by this company on their official website.
6. Mphasis Limited
Established in 1998, this IT Company was founded by Jeroen Tas and Jerry Rao and the current chairman of this company is Davinder Singh Brar. There are around 30,000 employees in this company who are working from 65 branches around the globe. Mphasis limited consists of a total of 17 branches in our country, five branches in the United Kingdom, 17 branches in the United States, two branches in Canada, three branches in Germany, etc
The company is working hard in providing application services, cloud services, DevOps Automation Services, infrastructure services, blockchain, cyber security, business process services, and next-gen IT operations, and a few more. This company has gained trust in this time period and is highly preferred for the job opportunities by new-gen IT experts.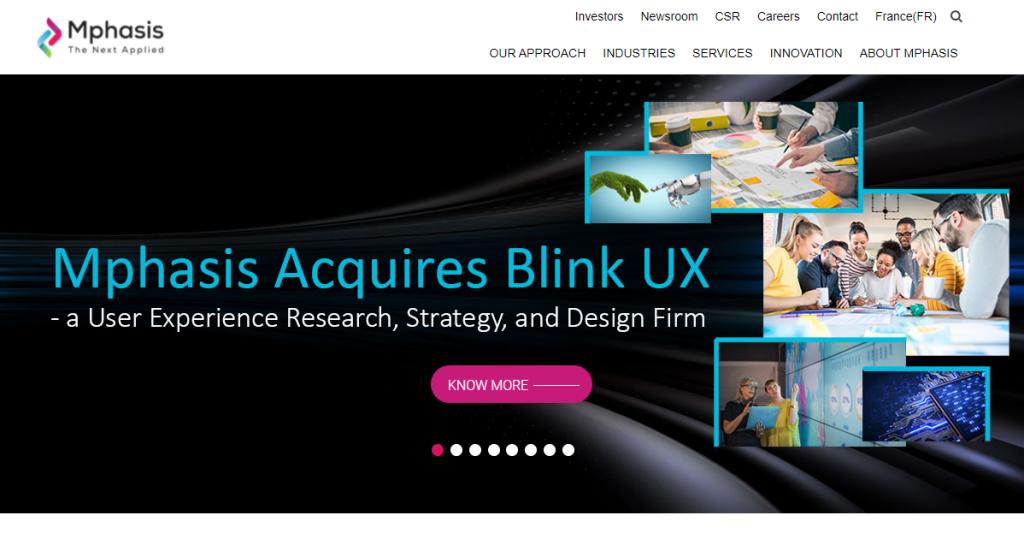 7. MindTree Limited
With the ambition to become one of the best IT companies in India, MindTree Limited was established in 1999. Under of leadership of the Vice-Chairman of this company is S.N. Subhramanyam, nearly 24,000 employees are daily learning and working hard. The company is now a Larson & Toubro Group Company and that is the top IT Company in India, whose main office is located in Bangalore. There are 43 branches of this company in different countries of the world and the United States of America has 7 branches out of it.
Few of the services provided by MindTree Limited are cloud services, data and intelligence, enterprise application services, hyper-automated infrastructure and applications, digital security, and information technology consulting. This company is looking forward to growing and expanding its business in upcoming years. MindTree Limited earns revenue of more than 7 thousand crores.
8. Hexaware Technologies Limited
Hexaware Technologies Limited was founded in 1990 by Atul Nishar. He is the founder and chairman of this company which has nearly 20,000 employees. The headquarters of this company is situated in Mumbai. There are a total of 33 branches of this firm in the world. These branches are divided into 8 countries. The company has 12 branches in India, five branches in the US, two branches in Australia, one branch in Canada, two branches in Mexico, one branch in the Russian Federation, one branch in the United Kingdom, and one branch in Japan.
The major services provided by Hexaware technologies limited are data modernization, cloud services, Internet of things, autonomous testing, and technology advisory & consulting, API & integration, application security assurance, data visualization, and marketing operations. This company is growing rapidly and making revenue of about 1500 crores.
9. Tech Mahindra Limited
Here we have one more IT company. This company was established in 1986 by the founder and now chairman, Anand Mahindra. Just like the other IT companies, Tech Mahindra is also offering the same services like cloud services, digital supply chain, SAP, testing services, artificial intelligence, data analytics, cyber security, network services, and intelligent automation.
With 182 branches across the globe and headquarters situated in Pune, this company is focused to expand its work and provide more employment opportunities. Currently, the company is employing more than1,25,000 employees. You can also apply for the job in Tech Mahindra if you have the required skills.
10. Quess Corp Limited
Our last IT Company of this blog is Quess Corp Limited. Though, this is the last company but, it is not the least important one. It is one of the top IT companies in India which was founded in 2007 by Suraj Moraje, this company has more than 3 lakh employees right now. It is one of the fastest-growing IT companies in India.
There are 25 branches of Quess Corp Limited, and the main branch (headquarters) is in Bangalore, the top technology hub in India. The chairman of the company, Ajit Issac, is working tirelessly to build up more branches.