Edible Webtech is one of the leading companies that provide the services of SEO, Digital marketing, web development and app development. In this era, it is crucial to use these solutions to stay connected with your audience, because people are looking for innovation. That's the reason why edible Webtech is here, this company has a record of providing exemplary services. Though the company has maintained an outstanding record for all the services, app development is their core strength. Their skilled employees go through all the ups and downs while making a highly functional app. They have also purchased the best app store optimization tools for clients.
Let us know about what App Store Optimization Tool means and why is it important to use. Here is the list of the best aso tools and their analysis which is done by our app developers.
Meaning of ASO
App Store Optimization generates organic growth and traffic to your app in the app store. It is a core reason for the overall success of the app. The mobile phone has the most extensive reach in the world. More than half of the population in the world has smartphones right now. More number of mobile users leads to more app downloads and high competition in mobile app ranking on the app store. Around 70% of people use the search bar to find the desired app and 65% of users download the app they get after searching. These numbers are huge to make a difference in the performance of your app. If you want to develop an app then the best way is to use top app store ranking tools. This app store optimization tool suggests the best words for description, category and title, and many more.
Why do we need ASO tools?
We all are aware of this term- Standing out in the Crowd. In this highly competitive world, everyone wants to get noticed for their work. App Store Optimization tool is just doing the same thing with your apps. People use SEO experts to generate and monitor the content on the website, hire social media managers to run their social media accounts, just like those you need to use the ASO tool to get keyword-oriented app description and title to rank higher on the app store. Not only this, app store optimization tools are capable of comparing your performance to your competitors, and updates about the performance and downloads of the app.
ASO tools guide you to select the images and videos to display and manage the app reviews; also, it is focused on getting as many backlinks as possible. ASO tools are advisable if you are concerned about the growth of the app as well as your business. Here is the list of the best app store optimization tool.
Best App Store Optimization Tools
1. AppRadar
The very first and one of the best app store optimization tools- APPRADAR. This app helps you in finding the best keywords for your app to drive traffic and attract potential customers. AppRadar is preferred to compare the ranking and performance between you and your competitors. It tracks the position constantly. Just like the other ASO tools, it suggests you the best for your app like reducing the app size or making it mobile-friendly, etc.
AppRadar Features
It optimizes Keyword.
Keyword analysis is its strength
It has a free and a paid version both.
Manages the reviews and ratings on the app store
It analysis the performance of the app
Tracks the rank of your app constantly
AppRadar Pricing
It has 4 plans
It offers a free trial of 2 months if you opt annual pack
The first plan of the best app store optimization tool free of cost
Next is the Starter package that costs $39 monthly
An advanced pack costs $69 monthly
The expert pack costs $129 per month
2. ASODesk
ASOdesk is software providing favourable results to its clients. In this software, you can search the keyword on which your competitors are ranking. This helps you to use relevant keywords for your app. Moreover, ASOdesk will show you the words which are easier to rank on. Based on ASOdesk's Score algorithm, you'll come across the words that are popular and has high ranks too. Just like the other aso apps, ASOdesk allows you to track and check your app's performance, conversion rates, and impressions. Other than this, ASOdesk will show that in which country your app is performing. It leads to an improvement in the ranking of the app. Hence, it is one of the best app store optimization tools.
ASOdesk Features
It provides organic reports
Compare with your competitor's keywords
Analyze and suggest the keyword for you
Explore the exact and high performing keyword
Keeps a check on app's performance
It keeps you aware of trending searches
ASOdesk Pricing
Plans are divided into 2 categories- for startups and for companies
Free trial is available
ASOdesk also provides custom based plans
Four plans are there for each category
For small businesses or startups, a small plan costs $41.6 per month
Medium plan charges $67.2 monthly
Large plan costs $92.7 monthly
The last plan, XL, charges $109.7 per month to consumers
For companies, the small plan charges $126.7 per monthly
Medium plan costs $169.1 monthly
L and XL plan costs $249.9 and $416.6 per month respectively.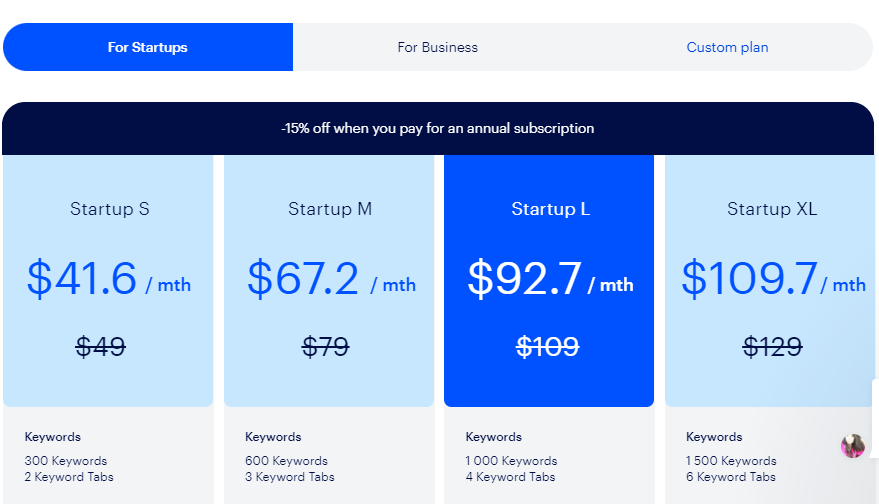 3. Apptweak
Apptweak is one of the best app store optimization tools. Keyword researches, keyword suggestion, tracking app performance, analyzing competitors are a few of its best qualities. It checks the keyword's search volume and difficulty level to extract the best words with performance. A good keyword is extremely relevant in app store ranking. You can also compare your competitor's app performance with your app. This will help you in enhancing the overall application.
Apptweak Features
You can check your visibility score
Spy on your competitor's keywords
Inspect the accurate keyword for you
App downloads and estimated revenues it generates
Proposes useful words
Recommends high performing keywords
Apptweak Pricing
It has 4 plans and each plan has free of cost trial pack of 7 days
The first one is a starter plan costing $58 monthly
Second is plan Pro $166 monthly
The next one is plan Guru which costs $249 per month
And here comes the last plan named power for $499 monthly
4. TheTool
Another top app store optimization tool is TheTool. This tool has the capability the find the hidden and the best keywords for your app's description. It helps you in deciding the category and title which performs higher in-app store. TheTool is an amazing app to check what your competitors are using and doing. Hence, it gives you the best for your application. ASO tools are very useful in tracking the difficulty of each word and the performance of each word. You can keep an eye on the data regarding app visits, app downloads, organic and inorganic downloads feedbacks, and ratings. It provides one of the best app store optimization services.
TheTool Features
Tracks organic and inorganic downloads
Suggests the most accurate keywords
Worldwide tracking is possible
Checks the ranks of the keywords
You can check the insights of your competitors
Downloading the data is possible
TheTool Pricing
This software is inexpensive to purchase
It has 3 plans and each plan has an individual free trial pack
The very first startup plan costs $45.4 for a month
Next plan named advanced costs $80.4 for a month
Plan expert costs $150.4 monthly
5. AppFollow
AppFollow has been serving many good and reputable brands. It is one of the best ASO tools of 2021. This software claims to provide a boost in conversion rate by more than 10% on average and increase organic downloads by more than 400%. A person can get keywords from this app which allows you to even translate those words to increase local approach.  You can check the average conversion rate report on this app. Adding more to this, you can track how your competitors are performing and use that strategy and words for your own good.
AppFollow Features
Get the words that can accomplish your goal
Achieve a good rank on the app store
Track the ranking and app performance
Analyze your competitor's app store optimization strategy
Provides keyword popularity and difficulty data
Good conversion rate and results.
AppFollow Pricing
This software has 2 categories consisting of plans for startups and plans for companies
The first plan for a startup is free of cost
Other 2 plans have 10 days free trial
Second pack Essential cost $23 for a month
The next plan named startup costs $47 monthly
Plan for companies' Growth pack costs $55 for a month
The advanced plan costs $111 per month
Pro pack costs $399 per month
The next plan Enterprise is custom based
6. CheckASO
CheckASO is a brilliant tool for game developers, publishers, and agencies. You can develop an app and then customize it by adding the relevant keywords to rank higher on the app store. It explores the accurate keywords to describe your app's features. You can use keyword suggestions from this software. ASO tools suggest words after conducting research and comparison between similar applications. You can the activity of competitive apps as well.
CheckASO Features
Allows you to customize the app conveniently
Suggests relevant keywords after analyzing
Spy on your competitor's insights
Check the app's rank on the app store
Analyze useful words and add that
CheckASO Pricing
CheckASO has four plans for different requirements
It is a free aso tool but has a paid version too
Startup plan costs $21 per month
Growing businesses plan costs $53 monthly
Publishers and Agencies plan cost $108 per month
The last plan named enterprise is custom based
7. Mobile Action
Mobile action is yet another ASO tool that ensures the users get commendable conversion rates. This tool has the capability to rank your app in a higher position which directly leads to organic page views and downloads. Mobile Action comes up with a keyword database after analyzing every possible word and app. You can choose the words from the list to use in the description. Word choice plays a vital role in app ranking. You have to be choosy while deciding keywords.
Mobile Action Features
Provides keyword database and variety
Exemplary conversion rates
Result-oriented software
Optimization of keywords
Spots your competitor's high ranking keywords
Advises the best words to match your requirements
Mobile Action Pricing
Mobile Action offers a free trial
Startup pack is free of cost
Growth pack costs $299 monthly
The business pack costs $599 per month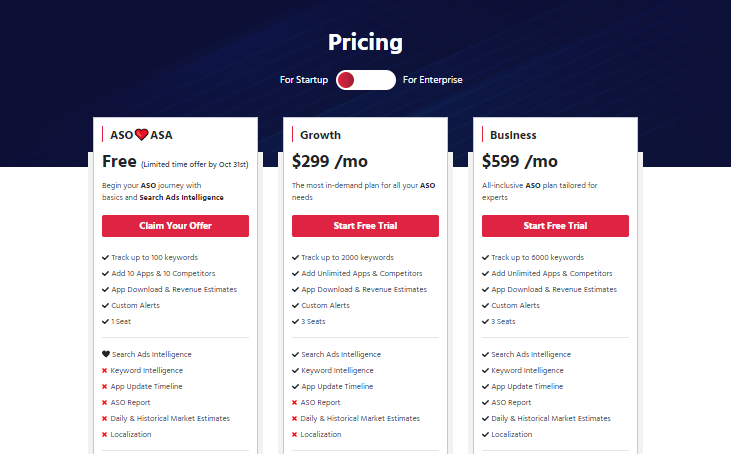 8. SearchMan
SearchMan has an outstanding feature named keyword graph that shows the ranking of each keyword and how well is it performing. This helps you to choose the correct words. SearchMan has all the required features like observing people's behaviour after coming to the app store or the time they are spending watching photos and videos. Tracking your competitors, their high-ranked keywords, and creating reports are some of its appreciable features.
SearchMan Features
Suggests good keywords
Track your competitor's performance
Compare keywords
Creates keyword graph
Observes and suggest trending words
Track your app's performance
SearchMan Pricing
The first plan of this software is free of cost
Next plan is ASO Dashboard which costs $25 monthly
Spreadsheet plan charges $99 per month
API charges $250 per month
Enterprise plan starts from $1500
9. Kumulos
This is our last but not least important software of this article. Kumulos contains multiple features and it provides mobile backends as service modules. You can manage content, analyze the functioning, track performance, and many more in one place. This software highlights the insights in detail, as it considers location and feedbacks are country-specific. It is very easily accessible for both the ios app store and the android play store. You can optimize to fit your needs.
Kumulos Features
You can compare the performance between ios devices and android devices
It ranks in regards to the country
App Store Optimization reports come after every week or month.
Tracking is easy
Showcase the best keywords to improve ranking.
Kumulos Pricing
Plans are not specified
It is paid software
Charges money according to the features you are using
Charges are personalized
You do not need to pay for the features you don't want.
Features–
Software
Suitable for Android
Free Version
Suitable for IOS
Free Trial
Conversion Optimization
AppRadar
✔
✔
✔
✔
✔
ASOdesk
✔
✘
✔
✔
✘
Apptweak
✔
✘
✔
✔
✘
TheTool
✔
✘
✔
✔
✔
AppFollow
✔
✔
✘
✔
✔
CheckASO
✔
✔
✔
✔
✘
Mobile Action
✔
✔
✘
✔
✔
Search Man
✔
✔
✔
✔
✘
Kumulos
✔
✘
✘
✔
✘
Want to get listed?
Do you have any other excellent App Store Optimization Tool? Send us your pitch for its listing at info@ediblewebtech.com
We'll analyze your software, and will introduce another fantastic ASO tool with our audience. Drive a plethora of app developers from all around the world from this amazing platform.